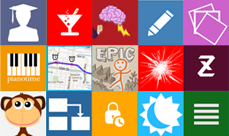 There's never been a better time to port your app to Windows 8. Let App Builder get you started.
Resources
Set Up Your Development Environment
So you're ready to build a Windows 8 app. The first step is to get a developer license and set up your environment.
Get a Developer License
A developer license for Windows 8 lets you install, develop, test and evaluate Windows Store apps.
Don't Have A PC?
You can use your Mac! Check out this helpful page: Installing Windows and developer tools on your Mac.
Already Have A PC?
Get the tools to build apps for Windows 8.
Download the free Windows 8 Release Preview.
Download the free Visual Studio Express 2012 for Windows 8.
Access Tools, Code and Resources
Developers and reviewers alike should register for App Builder and select the Port Your App track to access to special list of resources, tools and content specifically designed for this event. The content will provide guidance for developers on how to migrate your existing app over to Windows 8 as well as giving reviewers the latest resources to help answer Stack Overflow Q&A and support your app-building peers.
How to Register for the Port Your App Track on App Builder
On the App Builder registration page, click "Port Your App" option for custom tools, code and resources. Register for App Builder Port Your App today.
Get Connected to the Experts
By signing up for App Builder Port Your App, you have access to expert support to help port your app. Call the "App Builder Port Your App" support phone line: 1-800-895-4212