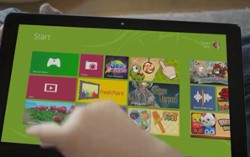 Semi-Finalists: Knowledge
The semi-finalist voting is over, with
great prizes
and a chance to win the $5000 Grand Prize for the top three apps in each group.
…
Billminder is a minimalist and elegant solution for controlling your expenses. With innovative infographic style display you can see at a glance how much you have to pay. Billminder features a live tile showing the next 30 days of bills so you will never miss a payment. Features Elegant minimalist interface Infographic overview of where your money goes Live tile showing next 30 days of bills...
…
This is the app version of the website http://www.greatwindowsapps.com - an alternative Windows Store that filters out the garbage to empower users to discover great apps. Windows 8 is beautiful. Microsoft have created an operating system designed for the future and it really looks great, particularly when you use it on modern, touch-driven hardware. This great OS needs great apps. However Mi...
…
Listen to audiobooks on a fast, easy-to-use Windows 8 application. You'll have access to an expanding multilingual collection that contains over 6000 free audiobooks categorized by genre and language. Features Search audiobooks Download and play audiobooks Stream audiobooks without download Share audiobooks with other applications Pin audiobooks to the start screen Listen to audiobooks w...
…
River Flows is a free Windows 8 application that lets you see real-time river flow data for anywhere in the United States. Useful for kayakers, whitewater rafters and whenever there's a flood. You can browse rivers near you on a map. The app supports square and wide live tiles that update with the latest river data every 15 mintues. Features Real-time River Data GPS Location support to ...
…
my-Trades is a virtual stock exchange platform with real data for Windows 8. You get some virtual USD and you can test your strategy and track your performance without risking your real money. You can buy and sell stocks on different stock exchanges (e.g. on NYSE) and see how your trading strategy works. http://my-trades.azurewebsites.net/
…
Feedgrind News Reader allows you to follow your favorite feeds for news, sports, entertainment, and more. All of your feeds are stored on your device, allowing you to read them even when you are not connected to the net. The trial edition is free and allows you to view up to five feeds. The full (paid) edition removes this limitation. Note that currently feed updates only happen if the appl...
…
End User's Perspective The morning news. The stock and currency market. The weather. Points of interest. These are some of the things you would check on a regular basis. Daily is a lightweight minimalist application that is designed to provide quick and easy access to all the information you require on a daily basis. If all you want is your daily dose of everything, then this application is f...
…
Classic children's tales and original stories brought to life through vibrant colors, engaging animations, and your own audio narration. Record multiple audio tracks for every story so that whether you're in the room, or across the world, your loved ones can hear you read their favorite story in that special way that only you do. Turn pages with an easy swipe or click -- your little one...
…
Tired of losing receipts, wrong accounts or hidden surprises in your wallet? With My Cash all your accounting is at hand! Thanks to its intuitive and elegant interface, you can: - Store all your expenses and receipts in time - Calculate statistically your financial performance based on Income and Outcome - Consult your account's changes through a comfortable graphic - Use the simple interf...
…
Introduction South Africa, the amazing country I live in, has 11 official languages including the language of Afrikaans which I can muddle my way through speaking. However often I struggle and that inspired me to create an app to help with a phrase book that helps you translate English to Afrikaans & back again! I see some real value in this on a tablet, when people come to South Africa o...