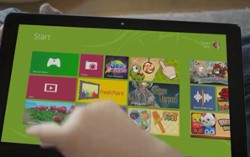 Semi-Finalists: Games
The semi-finalist voting is over, with
great prizes
and a chance to win the $5000 Grand Prize for the top three apps in each group.
…
Description Tired of waiting for 72 hours to beat your friend with your awesome knowledge in assorted words? WordRoom is the game where you'll settle things in a minute or two. You'll meet your opponent in real time, add friends or play random matches against anyone in the world. If you don't feel social, play the single-player mode with fixed levels and an industry standard three-...
…
DECOY is an action-filled top view game where the players get to take on the role of a professional Decoy. By controlling a ground vehicle, their job will be to enter enemy bases and distract the enemy while an infiltration-team is searching for information. With no means to defend themselves, the players must learn how to control their vehicle in order to avoid the enemy and survive. The ...
…
Description The aim of Knight's tour is to cover as much ground on the board as possible landing in each house only once. The knight's possible moves are highlighted and the game ends when no more moves are possible. There are four levels and there is a threshold at each level that needs to be reached before reaching to the next level. Features Knight's tour on a board Saves cur...
…
Are you smart enough to guess a 4-color combination with just a few clues? Find out now if you can do it in the 8 tries to hit the right answer out of more than 1500 possibilities. ColorChallenge is an exciting logic game where you will have to guess the right combination of colors and positions. After each try, you will be given some clues: a black dot for every color matching the solution, a...
…
Game of Numbers is a small app that should keep the user entertained and amused while he travels or is waiting. To play the game you just have to enter one of the 3 game sizes, 25, 36 or 49. After the GO! disappears, you can start clicking at numbers in the correct order. When you hit the last number, you are asked for your name to be stored in the leader board. In case you do not want that, y...
…
Pub Quiz is a trivia game with Global Leaderboard powered by Windows Azure Mobile Services and Windows 8 features. This Windows Store application was built with HTML5/JS, Windows Azure Mobile Services, and Bing Translator Text to Speech. Have a look at the demo video and watch the power of Windows design & features take a basic trivia game to the next level. All creative work such as windo...
…
New Version In the Store as of Dec 5 New Video Added Introduction "Awaken guardian! The galaxy is being invaded by strange polyhedron shaped beings from another dimension which we have come to call Polyhegrams. They are stealing all the planets and pulling them through the rift. If you do not act to defend us then all will be lost." Description Polyhegrams is a game that combines...
…
Get your fingers grooving to the beat of Disco Pulse, the fabulous new rhythm game designed for touchscreen Windows 8 tablet devices. Using two fingers as your dancer's legs, boogie across the dancefloor in time with the music. Watch the color-coded pulse and step on the corresponding tiles, while a thumping selection of original dance tracks gets your whole body moving. The unique gamep...
…
The Cybernet, it connects us all. Without it, we are alone in the world. Some 'things' want that. The Cybernet is under attack by some strange invaders. Be the one to protect it, and save us all. Take control of the turret and stop these pathetic puny from infecting the mainframe. Featuring two game modes, Survival and Wave, many different enemies, bosses, upgradable guns and city, sta...