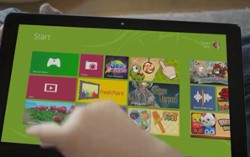 Semi-Finalists: Social
The semi-finalist voting is over, with
great prizes
and a chance to win the $5000 Grand Prize for the top three apps in each group.
…
EatsNearby is a foursquare client for Windows 8. While the user isn't required to sign up or login with foursquare, if he or she does so, the app will show their friends' recent activity, foursquare recommendations, and allow the user to check in to venues and share tips with friends. Some technical specifications: Written with XAML/C# Supports landscape, portrait, and snapped views Includ...
…
Birthday assistant is the elegant and easy to use application available on the Win Store to display upcoming birthdays from Facebook and make reminders. It works perfectly with Facebook to automatically import your friends birthdays. Thanks to the friendly interface, you can set birthday notification simply, navigate quickly between dates, change event time, repeat schedule and reminders rapidl...
…
This Application Includes the Features listed below 1 -) Shows Location of the User and user can search for any location on map . 2 -) User's Live id contact's list is shown in List menu , whenever user selects the contacts , that contact's location is marked on the map so that user can visit if he wants . 3 -) Synchronization of contacts with Live id as user can also add the cont...
…
Are you crazy? Am I crazy? Rorschach Test a psychological test in which subjects' perceptions of inkblots are recorded and then analyzed using psychological interpretation, complex algorithms, or both. This test is used to examine a person's personality characteristics, emotional functioning or to detect underlying thought disorder. We use Windows Azure Mobile Services and Windows 8 ...
…
Apyo is an über mobile platform for consumers where people make friends across social networks, hangout in exciting places, and find critical service providers in real time. This innovative, exciting, and free wireless mobile application, developed by RapportNet extracts the value seamlessly from all major social networks in a friction-less environment. The Apyo platform is location based ...
…
This free app allows you to browse, display and search photos from Instagram. Browse most popular photos, your own photos, your feed and search for photos by user or hashtag. Requires an Instagram account for most features except browsing most popular photos. Instagram is a social photo blog/sharing service mostly used on mobile devices. This application uses the Instagram API but is not endor...