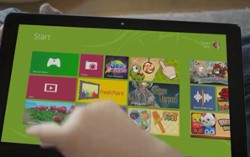 Semi-Finalists: Interest
The semi-finalist voting is over, with
great prizes
and a chance to win the $5000 Grand Prize for the top three apps in each group.
…
gMaps - Windows 8 client application for Google Maps gMaps allows you to: get directions (car, bicycle, public transit or walk) search for venues using powerful local search voice search support search charms support rotate map straight where you're heading find your location on the map Directions: You can get directions from/to your location or between two coordinates/addresses. Dif...
…
Piano Time is a free multitouch piano comprised of 36 visible keys and 4 selectable octaves. With a configurable metronome, users can learn to play the piano or practice their skills, as well as record and playback unlimited songs. Piano Time supports multitouch, keyboard, and mouse input. Features Multitouch, mouse, and keyboard support Live tile keeps track of total notes played over time ...
…
"Change the scheme! Alter the mood!" Surprise everyone with this futuristic watch! Inspired by Tron. This application turns your windows 8 into a nightstand/desktop Tron clock with a lot of functions. In the this version, you can: - Live Tile - Disable application name - Enable time display - Enable Time font Tron - Use many colors Very cool Live Tile. It updates every minute
…
Why buy a separate tuner to take around with you when you already have your pc or tablet with you that can do the job. In fact it can probably do the job better than most cheap tuners on the market. Tune Up helps you tune any instrument. it works by finding the note nearest to what is heard, and then shows how flat or sharp it is using a needle on the screen, as well as how many percent of a ...
…
WorldTime 8 is an application that shows what time it is in different locations across the world. It stands out from the crowd by featuring a day-night sun map (terminator line) that does not use data services to create the map. Choose from over 500 cities to show the time (with daylight savings) and sunrise/sunset times. Features: Day-night sun map (terminator line) calculated and rendere...
…
What's My Heart Rate helps you to measure your heart rate and breath rate through camera. ★ Features ★ Measure heart rate through camera. Measure breath rate through camera. Display your last measured heart rate through live tile display. ★ How heart rate measurement works ★ Measure your heart rate by just looking at your screen. Easy and convenient without needed to finger press ...
…
TvAddict is an application that brings you full control over your favorite Tv Shows and Movies. Tracking episode releases and keeping your home Movie collection has never been so easy! By adding your Tv Shows and Movies to Watchlist, you can keep track of every episode or movie you've seen. Every new release will be announced so you don't miss a thing! Ever forgot to whom have you borro...
…
Craigslist - unofficial 3d party client for www.craigslist.com portal. It allows you find whatever you want nearby in modern and convenient way. Application uses semantic zoom to navigate between hundreds of categories and locations to search in. It also incorporate system search charm in order to provide ability to initiate search even if application isn't inactive. During browsing posti...
…
RunGen is a running app unlike anything else. You can log runs, track runs on a calendar, view past runs, and find out optimal training paces. If you do not know what to do for your run, this app will give you an idea of what to do. RunGen is based off your previous performances and works for anyone from the elite level to the novice level.
…
A delicious grid of, you got it, baby animals! Pictures, videos, and ridiculously cute titles. I dare you to try and flip through this app and not laugh or smile at some of the content. Equipped with Grid style home screen Flipview detail view Snapview support with inline video play Full of animations Live tiles Multiselect sharing In app settings Links to open original articles in the def...