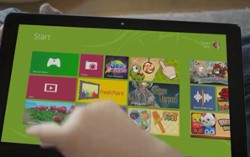 Semi-Finalists: Work
The semi-finalist voting is over, with
great prizes
and a chance to win the $5000 Grand Prize for the top three apps in each group.
…
Coder allows you to program in over 50 languages(C#, C++, VB, Lua, etc), allowing you to solve problems on the the desktop or tablet environment, and allows you to share your solutions with others. It will also have online leaderboards, so you can compete at a global level. Website: www.bytecode.ca. Note this release is sort of a Beta, be nice! Some syntax highlighting is weird for certain l...
…
Layout is an application for creating interaction designs for Metro-style apps. This app can be used to create a visual representation of a real world app without having to write any code. Interaction designs can be quickly prototyped, tested, discarded and redone without long development cycles. Current status The second beta of Layout has been released to the Store. We've fixed a lo...
…
Integrate the cloud! Cumulo allows integrating different cloud storage services, such as Google Drive, Dropbox and SkyDrive, in a single and unified view. All your cloud storage in one place!!! The application will be implementing features in future updates. So keep an eye on Cumulo for those features you need for managing your cloud storages! Features Integrates DropBox, SkyDrive and Goog...
…
Code on RT! (Demo video)[http://youtu.be/JCqVtvelg0Q?hd=1] Ever wish you could take that lovely new Surface RT of yours out and get some software written? Well, now you can. HaxPad is a single file programmers' editor for Windows RT and Windows 8. Featuring Highlighting for more than 50 languages Tag completion for HTML and XML Both normal and regular expression search/replace, at ...
…
TrimWord - Love Writing Again Demo Video TrimWord is a fast, live-preview MarkDown text editor with dozens of rich themes, printing, HTML export, and github-flavored markdown extensions. It's fast growing, releasing as fast as the review chain permits, and offers a number of real, high quality typographically competent themes. We all want out of word processors. They take more time ...
…
Introduction Sometimes you just need a simple tool, for a simple job and while Microsoft offers the FANTASTIC OneNote MX available for Windows 8 to use, it may is just too much. With that in mind, let me introduce a simpler text editor, NOTEPAD CLASSIC! Notepad Classic is that - a simple text editor! Enjoy Features Support for Unicode & ANSI file formats. Find support Replace text ...
…
MetroGist is a Windows 8 application that lets you access your Github Gists from any Windows 8 PC. You can view, edit, and create Github Gists in the Windows 8 (Metro) style interface. Use from any Windows 8 PC, including Windows 8 RT. Gists are small code repositories hosted by Github. They make it easy to share snippets of code with others. Each gist is a full Git repository. Every gist is ...
…
QR code design made easy! "QR Code Designer" The only application generating custom-designed QR codes. It has full unicode support, as well as support for colored corners, rounded edges, join, etc., which make the code look really nice and human-friendly. All this is exportable to PNG, SVG. Real-time preview of QR code image Configurable parameters. Modules size (width/height) Qu...
…
Description Christmas theme, French and German translations already in the Store. Check it out! 8 Zip is a file archiver that allows to combine a number of files together into one archive file, for easier transportation or storage. Supports English, Italian, Russian and Chinese. Developer perspective 8 Zip is a C#/XAML Windows Store application built on the base of MVVM pattern. Currently...
…
Introduction Do you wish you could stick a note to your start screen? NOW YOU CAN! Pin-a-note, allows you to store your notes in this fantastic application, and then pin any to the start screen so you can easily seen them at any point! Your notes will also travel from device to device, thanks to the power of the cloud! Now supports double wide tiles too! For Developers This application ma...